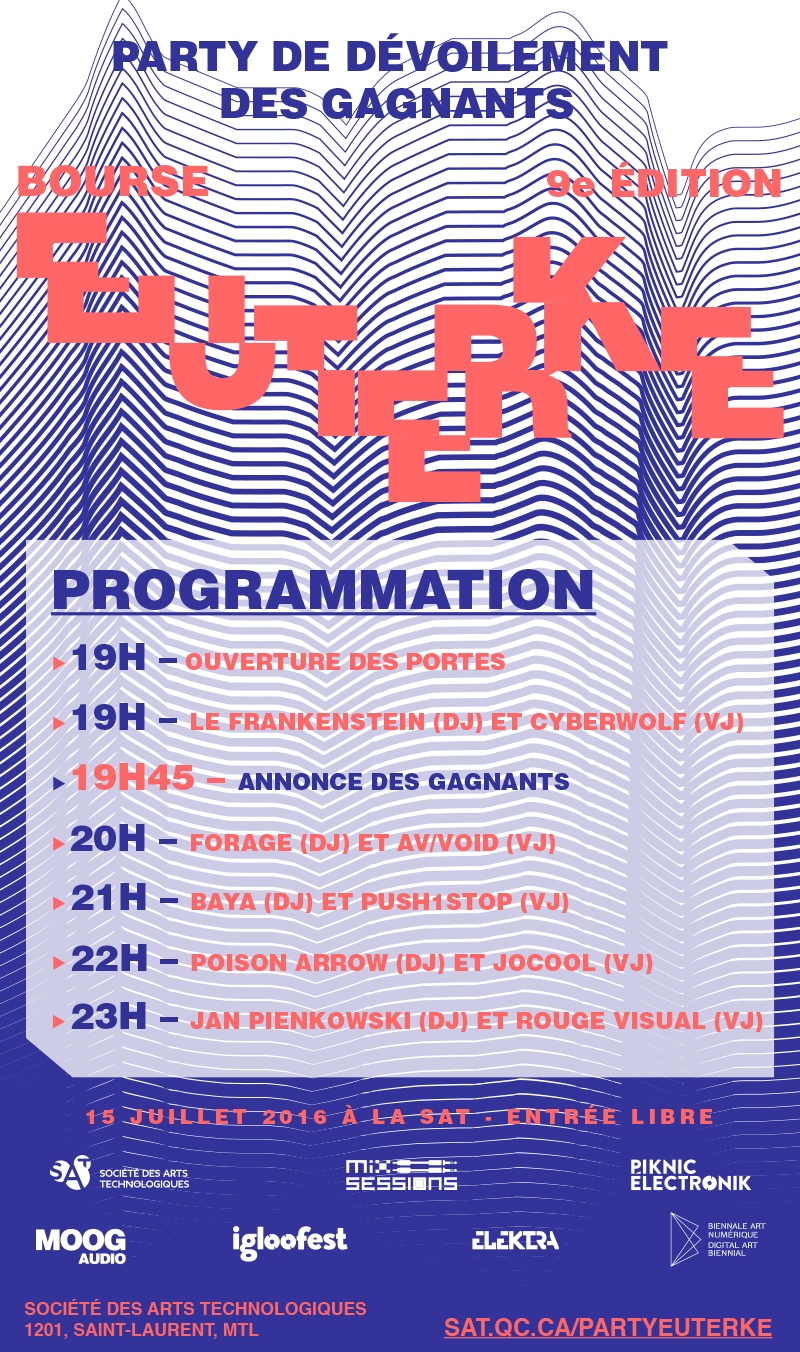 Bourse Euterke 02016 Award Ceremony
DateJuly 15, 2016
Starts8:00 pm
Ends2:00 am
Having won last year's audio, I will be performing immediately following the award ceremony to this year's winners. Expect dj/live hybrid of my own tracks, combined with some danceable techno & tech house.
—-
Pour une nouvelle édition, la SAT, Mixsession, le Piknic Électronik, l'Igloofest et Elektra se sont associés pour présenter la Bourse Euterke, une aide à la relève VJ/DJ. L'appel à participation étant terminé, nous vous invitons maintenant (le vendredi 15 juillet prochain) au party de dévoilement des gagnants, gratuit et ouvert à tous !
10 ARTISTES EN PERFORMANCE : Le Frankenstein (DJ) + Cyberwolf (VJ) + Forage (DJ) + Av/Void (VJ) + BAYA (DJ) + Push 1 stop (VJ) + Poison Arrow (DJ) + JOCOOL (VJ) + Jan Pienkoski (DJ) + Rouge Visual (VJ)
—-
Vendredi 15 juillet – 19h à Minuit
Entrée gratuite
—-
DJ EUTERKE (1972-2008)
Depuis ses débuts, le travail d'Euterke était associé à une esthétique et un son "dancefloor" et "groovy", orienté vers la dub. Signé sur un sous-label de Kompakt axé ambiant, appelé "Avionix Records", Euterke a aussi réalisé de nombreuses créations destinées au théâtre ainsi qu'au cinéma. Cette bourse a été initiée à sa mémoire.
http://sat.qc.ca/fr/evenements/party-de-remise-des-prix-bourse-euterke-2016
https://www.facebook.com/events/300928286915273/
Comments
comments